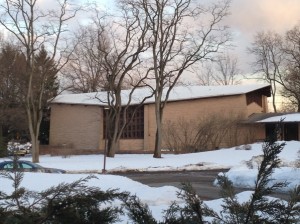 Echo Lake Church of Christ                                                                                     419 Springfield Ave. Westfield, NJ  07090                                                Phone: (908) 233-4946                                                                                           email: office@echolakechurch.org                                                                         web site: www.echolakechurch.org
Worship Times:                                                                                                                Sunday 11:00 a.m.  and  2:30 p.m.
Bible Study (for all ages)                                                                                              Sunday 10:00 a.m.                                                                                                                Wednesday  11:00 a.m.  and  7:00 p.m.
The picture above is of  our building which you may have passed at the intersection of E. Broad St. and Springfield Ave in Westfield, NJ.  The outside is brown brick and our sign has a rainbow on it, a reference to the symbol of God's Promises given after the Great Flood in the days of Noah.
More important than the church building, though, are the people who make up a church. Our congregation is diverse when it comes to race, socio-economic status, and theology.
Our congregation consists of very different people who have one important thing in common:  We have all committed our lives to Jesus Christ and are living the daily life of a disciple.  We have accepted the great blessings that come from a relationship with Jesus: being reconciled to our Heavenly Father/Creator through the forgiveness of our sins, the Holy Spirit, promise of a great future, daily strength, daily provision, and shalom.
We are imperfect.  We say and do things we regret.  We fail to do the right thing at times.  But we are committed to growing.  We are committed to never giving up.  We are committed to Truth.  We are committed to living a life that pleases God.  All of this because we are committed to Jesus.